If you are considering SELLING YOUR PROPERTY on YOUR OWN, you should definitely read thoroughly thru my website. Licensed Realtors are charged with a significant responsibility by the State of Hawaii, also acting in accordance with our National Association of Realtor's Code of Ethics, and finally our Hawaii Association of Realtors, rules and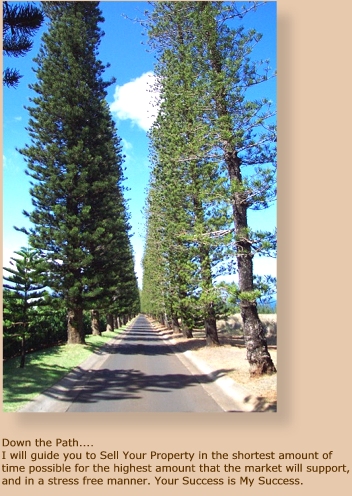 regulations. These stringent guidelines are in effect to protect both Buyers and Sellers in the arena of the marketing and transferring of real property. Simply placing a 'For Sale' sign in your front yard or an ad in a 'For Sale By Owner' magazine, is only the tip of the iceberg in handling a real estate transaction. A trained professional will have the experience, local market knowledge, and objectivity necessary, plus a fiduciary obligation to handle with integrity, a predictable range of questions like:
Why are you not using a Realtor, is there a problem with this property?
How did you determine the price for this property?
How does your home compare to the one that just sold about four blocks from here? Have you seen that property?
Are you willing to hold paper?
How much of a loan can we get on this property and how much do we need as a down payment?
How do we make an offer? Will you create the contract and are we protected?
Are you offering a Home Warranty?
How do we know if there are termites?
Is there any mildew or mold to be concerned with?
Do you know if the property will appraise at the contract amount and what percent of that can we borrow?
Since you are not using a Realtor, can we start by deducting their commission from your listed price?
The other home has a pool and central air conditioning and a newer roof that was installed two years ago; why is yours the same price?
What happens if you accept our offer and in six weeks we find out we cannot get our loan?
Who will hold our deposit?
Is everything being done legal?
Since every home and every buyer is different and the process can be emotionally charged, especially around one of the largest transactions in most people's lives, it is wise to consider the RISK that you are taking on. Also, know that exposing your property to the largest number of buyer's at any given time in your market place is a primary key to getting the highest price possible. Realtors are constantly servicing clients who are looking for property and that network is filled with financially qualified, market educated buyers. Negotiating with someone whose goals and needs are diametrically opposed to yours can be tricky at best. Buyers want to pay the lowest price possible for a property; they know that FSBO's want to get the most they possibly can. Be certain that you are prepared to take on the associated risk before you proceed. If you do decide to market your property yourself, I still invite you to 'CONTACT ME' to give you a Comparative Market Analysis and an overview of how I would market your property. I know that I can make a difference and am happy to share my professional insights.
Aloha,
Sid Kirkland
Your Maui Real Estate Advisor