Satisfied Clients are what Matters Most to Me!
Now that you are considering buying that vacant lot, condominium, or vacation home, that you have been dreaming about, you will want the security of working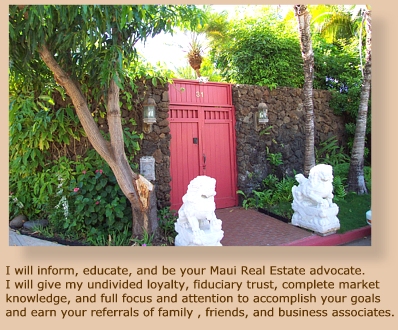 with a professional realtor who knows the Maui market and who will listen and care about your needs and preferences. My clients will consistently tell you:
I am willing to spend whatever time you need and make the extra effort to find the "right" property for you and your family.
I am knowledgeable, and extremely proficient regarding Maui real estate and will answer or access information to answer your most difficult questions.
I am supportive and committed to the highest level of personal service and will assure you that you will feel comfortable from our first contact through closing on your property.
I understand the business of real estate; mortgage financing, depreciation for tax considerations, interest deduction on investment property, identification of like kind,1031 tax deferred exchanges, Maui market trends and specific property income histories. I will introduce you to reliable mortgage loan consultants, professional property inspectors, escrow and title companies. I have a dedicated professional team to assist you with all of your Hawaii real estate matters.
I work in a 'No Pressure', informative, supportive manner; I will earn your trust and I will value the opportunity to be your trusted pro-active Maui advisor.
I know that 'timing is everything' and I am easily reachable and accessible by Direct Cell Phone, and employ a full time Office Manager / Assistant who supports me and my clients moment to moment real estate activities.
I will communicate with you regularly and have an advanced technology contact management database which I employ to keep my clients informed about comfortable with their transaction every step of the way.
Whether I represent you in the Sale of your property or in the Purchase of your property, I will provide you with an American Home Shield Homeowner's Insurance Policy, to insure that the fundamental systems and appliances you are selling or buying will perform properly.
I am committed to your 100% Satisfaction, 100% Guaranteed. Thus I am comfortable offering you My Guaranteethat if for any reason you ever feel less than satisfied I will remain open to hearing your needs, concerns, and suggestions and should you desire to choose different representation I will release you gracefully from my services.
"My commitment is to go above and beyond; my passion is exceeding your expectations; and my reward is achieving excellence in your eyes and earning your referrals of family, friends, and business associates!