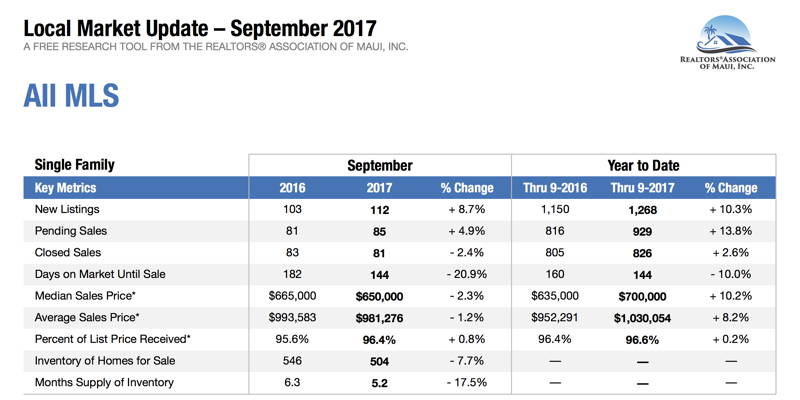 Aloha!
The stats are in for September 2017. We will review the Maui figures for both Single Family Homes and Condominiums. Attached are the statistics from the REALTOR Association of Maui if you wish to view the actual figures and see additional information.
We do prepare a monthly newsletter that talks about real estate, current events, and local news. It goes out monthly and there is an option to unsubsribe at anytime. Please try it out. If you own or are interested in a specific development, please let us know and we will customize the real estate stats for you.
Sign Up For Monthly Newsletter
Single Family Homes:
In September 2017, there was an increase of new listings that hit the market; 112 homes were listed versus 103 for the same period last year. Year-to-date, the number of new listings is up 10.3% at 1,268 versus 1,150 through September 2016. Pending Sales, or those listings that are under contract, increased 4.9% this September. Year-to-date, pending sales of single family homes are up 13.8% with 929 homes having gone under contract versus 816 in September 2016.
Closed sales are actually down this September with 81 closed home transactions. This is a 2.4% drop versus September 2016. Year-to-date though, the figures are actually up 2.6% with 826 closed transactions versus 805 through September 2016.
Days on Market has drop 10% so far as the average time on market for a single family home is now at 144 days versus 160 days last year at this time.
Both the Median Sales Price and Average Sale Price drop slightly in the month of September, but the overall figures are up year-to-date. The Median Sale Price year-to-date is still at $700,000 versus $635,000 in 2016; this is a 10.2% increase. The Average Sale Price year-to-date is at $1,030,054 versus $952,291 in 2016; this is a 8.2% increase.
Condominiums:
September saw a 13.9% increase in new listings; 139 condos were activated on the MLS this September versus 122 last year. Year-to-date, there has been a 3.7% drop in the number of condominiums going on the market. Last year through September, there were 1,502 new listings versus only 1,447 this year.
Pending Sales were up in the month of September by 22% and year-to-date by 15.2%. There were 1,147 transactions that went under contract this year versus last year at 996.
Closed Transactions increased 25.3% in Septmber over last year and the year-to-date figure is up 6.9% with 1,048 condominiums being sold so far versus 980 in September 2016.
The Median Sales Price and Average Sales Price for condominiums are both up through September. The median was up 14.4% and the average was up .8%. Year-to-date, the Median is now at $449,500 versus $417,250 in 2016 a 7.7% incrase. The Average year-to-date is now at $678,010 a 7.1% increase over $633,358 in 2016.
As we move towards the busier season, the current indications are that prices will still climb. The condominium market is definitely being tested as there has been a drop in new listings coming on market this year and an increase in pending and closed sales. Some pressure may be eleviated as new inventory is coming on market with the recent grand openings at such communites as Kaloma Village on the Westside and Kamalani in North Kihei. Both of these projects will also assist with affordable housing which is a major issue, but way more affordable housing is needed.
Interest Rates are also a concern as the Feds just increased rates again. Mortgage rates are still very good from a historical perspective though.
If you are interested in selling or buying real estate, we would welcome the opportunity to be of service. You have lots of choices, but not all choices are the same. We bring years of experience and knowledge to the table and commit ourselves to your needs and objectives. Call today and allow us to be your Trusted Maui Real Estate Advisors.
Mahalo nui loa!
Sid Kirkland & Associates, RB 21537
REALTOR - Broker, GRI, CRS
Maui Real Estate Advisors LLC
(808) 446-6700